Monica Jayne
Trailblazer of Unabashed Badassery
I am on a mission…
🦄 To eliminate the stigmas that hold us back from being all of who we are
⚡️ To change the conversation and eliminate inhibitions, repression and shame around sex and sexuality
🦄 To create spaces for you to feel safe to express yourself and ask the questions you've been too afraid to ask
⚡️ To give you access to education you were never taught on life-enhancing skills around relationship and communication
🦄 To catalyze your potential to love and accept yourself fully, even the parts of you you don't like
⚡️ To inspire in you your permission to be Unabashedly You™
Ready to give yourself the Gift of wholeness?
Where are you now?
😣 I lack self-confidence and trust to create the life I want to be living even though I try…
I REPRESS MYSELF: MY EXPRESSION, MY SEXUALITY, MY DESIRE… 😔
😣 I always put others people's needs before my own…
I DESIRE INCREASED INTIMACY AND CONNECTION… 😔
😣 It is really hard to speak up for myself…
I DON'T FEEL COMFORTABLE TALKING ABOUT SEX… 😔
😣 I don't know what I need or desire or how to ask for it…
I DON'T FEEL CONNECTED TO MY PARTNER or TO MYSELF… 😔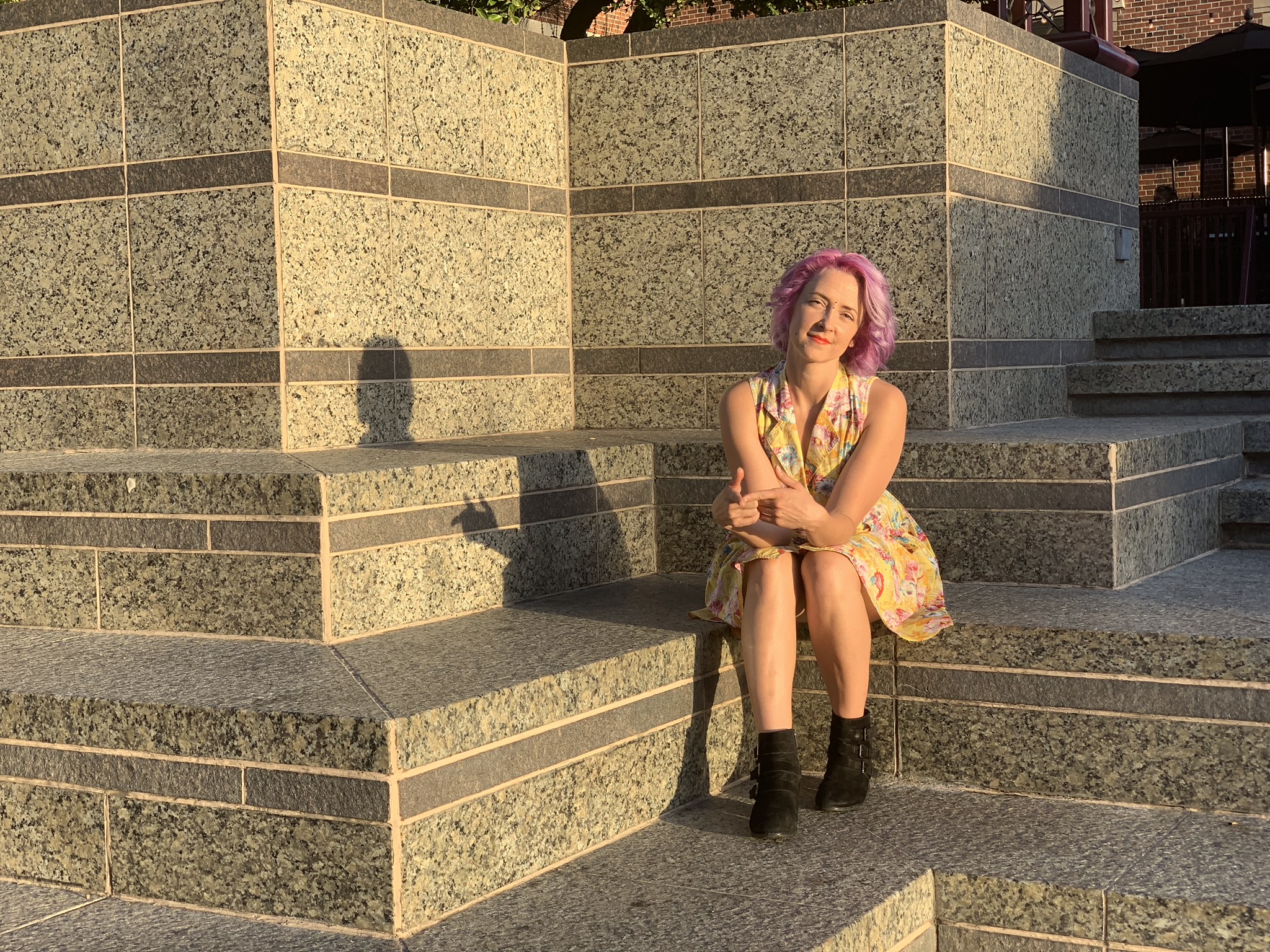 "You are not alone… Many people share these same feelings and beliefs."
Ready to give yourself the gift of wholeness?
Growing up my freedom of self-expression was repressed by religious, societal, and familial conditioning.
My mother would cover my eyes if people on the television screen started kissing. If the scene got too noisy, she would put my ear to her thigh and cover the other ear while continuing to cover my eyes.
From this consistent action, my neurology was conditioned that as soon as I was becoming aroused, I needed to turn it off and quick!
I carried into my adulthood, into my intimate interactions, into my everyday life this conditioning to immediately shut down and tamper any arousal I experienced.
At 28, I was at my mother's deathbed feeling confused and aching to speak to her once-and-for-all about sex. I grappled for days with the decision to bring it up knowing she was dying and knowing I didn't want to upset her. I decided I could ask and she could say "no" and that would be much better than having to live the rest of my life having not asked and wondering what would have happened…
I am so glad I did.
I let her know all of the above and she asked, "What is it?" I gulped and asked, "Mom, have you ever had an orgasm?" She paused, looked around, took some breaths, finally looked back at me then replied, "I don't know."
Our conversation lasted quite a while and it ended with her saying, "If I had it to do over again, I'd be more open and adventurous sexually."
Wow! Finally! The spell was broken, the permission given, I was set free to get acquainted with my pleasure, my turn-on, my eroticism, the essence of what lights me up and makes life worth living.
This is the journey of self-inquiry and discovery I have been on since 2011. I've studied with amazing mentors, travelled the world in search for answers, completed numerous programs and workshops.
Like you and many others, up to that point I'd spent my life paying attention to my physical, spiritual, emotional, and psychological well-being with eating well, exercise, getting out in nature, yoga, spiritual practice, counseling, self-help, etc.
But, I was missing a piece of the pie. I was missing a self-care for the erotic aspect of who I was born to be.
Aspects of Our Well-Being
Awakening to my eroticism and giving it as much space and study and care and time as I give these others aspects of my beingness has been instrumental in my coming into my wholeness.
As a person who is now in touch with my turn-on I rarely question myself anymore, what I want, what I don't want. I am clear. I recommit to staying in touch and to maintaining my state every day. I'm the most sturdy, solid version of myself I've encountered.
I watch the same happen with clients. They'll say, "Receiving coaching with you has been the Rite of Passage into adulthood I've been missing, it is a fortification of solidly knowing who I am and what I want in life and has given me the confidence to get it!"
Most of us do things to maintain our physical, spiritual, emotional, and psychological well-being, while neglecting our eroticism, our ever-flowing life-force, giving it attention only where and when it feels convenient. Imagine if you did that with eating and breathing! You'd die.
All of the things you are a "yes" to feed and maintain your erotic well-being. This self care includes not only acts of physical intimacy but also things like beautiful sunsets, delicious meals, taking a walk, loving what you're wearing, maintaining your hairstyle, amazing conversations, a great book, spending time with pets you love, and so much more!
All of these aspects of our well-being are essential to your livelihood; your vitality and a part of you is dying slowly when you do not give attention to your erotic well-being, to your arousal, to your turn-on, when you do not feed and nourish yourself with what lights you up.
I recognized this for myself and my life is better than it's ever been, and that is why I've become certified in educating and coaching others on sexual wholeness, erotic awakening, and unabashed self-expression.
I want for you what I've manifested and cultivated for myself - the courage to be unabashedly me no matter who I'm with or the context I'm in, solid in who I am and what I desire and able to speak up for myself with confidence and grace.
I'm here to support you to be Unabashedly You!
⚡️🦄✨🦄⚡️
READY TO GIVE YOURSELF THE GIFT OF WHOLENESS?
Julia Rozo
"Monica Jayne, I love your spontaneity, how passionate and joyful you are about life and everything/everyone around you. Your ability to hold, love, and nurture is immense and inspiring. You are a remarkable woman and human being. I love how committed you are about making a difference for yourself and others. Thank you for moving and inspiring me and us who come across your path."
Jerry Synder
"Monica Jayne presents information that acknowledges the difficulty and the nuance involved in any kind of intimate relationship negotiation, but at the same time provides useful real world skills. She is a polished speaker: articulate and engaging, and real. I cannot recommend her on strong enough terms."
Alexandra George
"I felt 110% comfortable sharing openly and really appreciated that everyone else was also trusting and open. Such a wonderful space you provide to share with others about 'taboo' subjects and in such a welcoming manner. 💕🦄"
Mark F.
"Monica Jayne has intuitive nature, deep insight into her own journey, and is an excellent facilitator and teacher. Her depth of knowledge and sense of humor make the sessions enjoyable and informational, very practical!"
Ready to give yourself the gift of wholeness?